We recognize that all our patients are unique and deserve to receive dental care that reflects their individual needs. Our experienced and talented dental team is committed to working with you and your family to create a comfortable, stress-free, and rewarding dental experience every time you visit our practice.
We are pleased to welcome you and your family, and we look forward to working with you.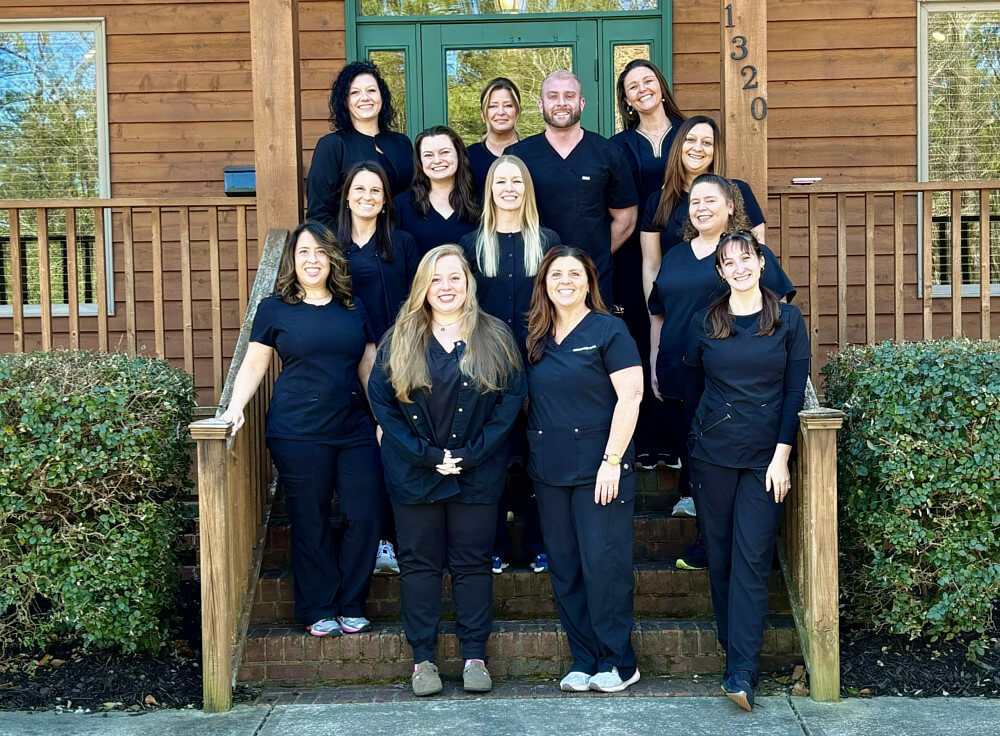 ---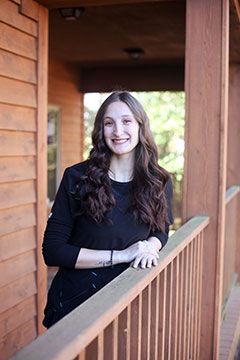 Chelsea
Front Desk
I enjoy interacting with people on a daily basis and seeing everyone's smiles as they finish their appointments.
Working in the front office, I check patients' insurance coverage, collect payments, and ensure each person is happy with the service received. I joined the practice in 2022 and love everything about my job. It's rewarding to be part of a positive and friendly team, where we all pull together to ensure our patients the best experience. Everyone is full of smiles at Elmtree Family Dental, which makes for a great atmosphere.
Away from work, I absolutely love reading, spending time at home with my family, and sharing adventures with my dog, Molly.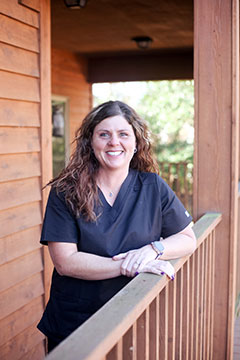 Deejay
Office Manager
I love connecting with our staff and our patient family. Seeing familiar smiles when people walk through the door and sharing in their lives over the years is very rewarding.
As the Elmtree Family Dental office manager, I oversee our daily operations to ensure we run smoothly and efficiently. Keeping our staff on track, and encouraging each to be the best they can be, helps us maintain a welcoming environment. I started working in the field in 1998 at an oral surgery practice, and joined this team in 2004. Over the years I've had the pleasure to build wonderful relationships with our patients: they're like family.
My husband Bobby and I have been married since 1999. We have three kids and two dogs. Now that our kids are older, we love to spend time together, especially taking walks after work. We're also huge Gamecock fans.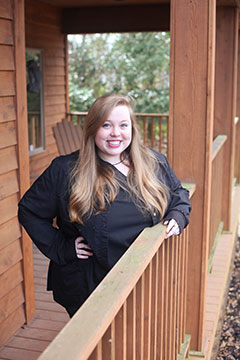 Jessie
Dental Assistant
While I enjoy the hands-on aspect of making temporary crowns, what I really like is helping patients feel comfortable. Not everyone feels relaxed at the dental office, so I joke and get people to smile and laugh, so they are able to let go of their worries.
Working in our clinic, I assist Dr. Roncaglione with procedures while also providing patient care. I hold a bachelor's degree in chemistry from the University of South Carolina, in addition to my on-the-job training. I've worked in the dental field since 2014 and was welcomed to Elmtree Family Dental in 2021. We're constantly laughing, making jokes, and having a good time in the office. While we are serious about oral health, we're also good at not taking ourselves too seriously. This makes for a great environment for everyone, but especially our patients.
Away from work, I spend most of my time with my significant other — we've been together since high school — and our two fur babies. In my free time I love to travel and paint.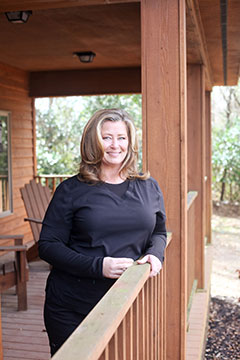 Loriann
Registered Dental Hygienist
I like diagnosing periodontal disease. Once a person is educated on the disease, what will be done to treat and maintain their health is an eye-opener for most. The results always amaze me and our patients are always appreciative.
My focus is on diagnosis, treating, and maintaining gingival health as well as providing patient education. I started my career in 1993 and joined Elmtree Family Dental in 2009. I have been a dental hygienist for nearly two decades, have completed a soft tissue management program, and hold an anesthesia license. This is an incredible office: Dr. Roncaglione is highly skilled and has an amazing rapport with patients and staff, along with a great sense of humor. And my coworkers are the best people. We're not just a team, we're family, and we pull together to provide the best experience, care, and results for our patients.
My husband and I have known each other since we were 11. We've been married for more than 15 years and have a young teenage son, Cooper, along with our chickens and two dogs, Badge and Moose. We love our country life and enjoy most anything outdoors: hunting, skeet shooting, four-wheeling, and time at the lake and the beach.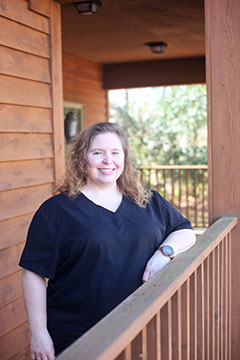 Mandy
Dental Hygienist
I am happy to work with fabulous teammates and love getting to know my patients.
Being a dental hygienist is about helping people improve and maintain their oral health. I perform cleanings and SRPs, place sealants, acquire radiographs, and offer patient education and motivation. I am also the Elmtree Family Dental Radiation Safety Officer and am responsible for ordering some of our patient home care supplies. I started my career in the dental field in 1997, hold an associate's in health science/dental hygiene, and worked here part-time from 2011-2012. In 2020 I rejoined the team full-time. We are professional when we should be but also enjoy having fun, which keeps us and our patients smiling.
Outside of work, I love spending time with my husband Adam, son Noah, and our dog Peanut, rescued about nine years ago. Noah is a freshman in college and has been in marching band since seventh grade. As you can imagine, I enjoy being a "band mom." I also love being outdoors and spending time in my garden. Our family enjoys trips to the beach and mountains, too.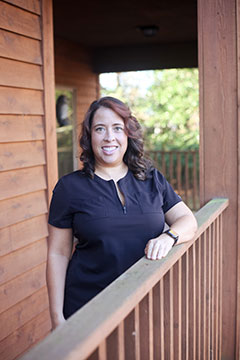 Sabrina
Registered Dental Hygienist
I appreciate working with a cohesive dental team and helping patients develop healthier smiles while building connections with them.
My days are spent providing dental hygiene services, including preventive and maintenance cleanings and patient education. I have an AAS in dental hygiene, a Bachelor of Science in communication, started working in the dental field in 2014, and joined Elmtree Family Dental in 2022. This is a friendly and positive office, where we put our patients' comfort, safety, and health at the forefront.
Away from the office, I spend much of my time with my husband Michael and two children. We like hiking and being outdoors.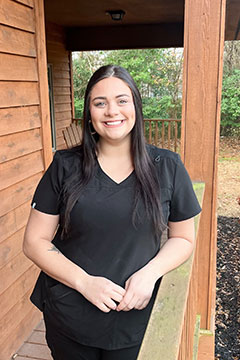 Hannah
Front Desk
I love meeting new people! Our patients are, absolutely the best part of my work and highlight of my day. I am so happy to see them experience the highest quality of dental care possible.
I greet everyone with a smile, schedule appointments, and help to make sure the front desk runs as efficiently as possible. While this is my first job in the dental field, I really feel like I belong here. Everyone is super caring and so much fun to work with!
I have a Yellow Lab named Lock. I live with my best friend and her sister, along with their dogs, so if you ever see a stray dog hair, you know who the culprit is! When I am not at the front desk at work, I am either with my nephews or doing photography, Wedding photography is my favorite! I also coach volleyball, for the club I played for when I was younger.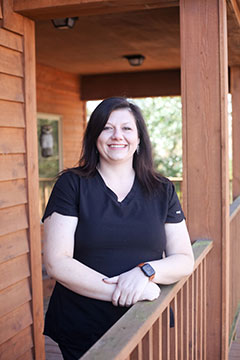 Marie
Dental Assistant
Someone's smile can make all the difference in the world, and I love being a part of making that smile healthy, beautiful, and confident. I like working with and getting to know patients and families during their visits. It's rewarding to help people I care about feel better about their smile and show them that visiting the dentist can be enjoyed.
After starting in the field in 2009, I found my professional home at Elmtree Family Dental in 2022! I make sure patients are comfortable during visits, assist Dr. Roncaglione with procedures, and ensure that patients understand their home-care instructions.
At home, I have two children as well as a dog and a cat. When I find free time, I love hanging out with my kids, going on golf cart rides, and just living the most simple but fullest life I can!